Copy of Welcome to a better way of saving wine.
Keep an open bottle of
wine fresh for
up to two months.
Easy | Effective | Wine Saver
---
Pop the Cork
One Repour will keep one bottle of wine fresh until the bottle is empty. Use Repour like a regular wine stopper in between glasses.
Keep Wine Fresh Longer
Repour removes 100% of the oxygen from wine. With no oxygen, the wine stays fresh.
Give it a Swirl
Repour works so well your wine may need a little air before your first sip.
---
What People Are Saying
If you're looking to keep your wine as fresh as the day you opened it, then you should definitely look to Repour.

Jon McDaniel, Food & Wine Sommelier of the Year
Repour is the best option for preserving premium wine selections.

Harley Carbery, Sommelier
I was incredibly impressed with how well Repour performed, preserving the exact aromas and flavors of the wine as they were on the day the wine was opened.

Andrea Pritzker, Master of Wine
These cool little caps are genius and integral in preserving the freshness of your wine!

Luke Pierce, Lawbird Wine Bar
Thanks to Repour, I'm confident that if I open a bottle, it will still be good the next time I need to use it – whether it's next week or the week after!

Hannah F.
For those who care about delivering a quality wine down to the last drop and in the best possible condition, Repour trumps everything else available.

Ron Georgiou, Master of Wine
Repour is our new favorite wine tool, right up there with the wine opener itself: a perfectly magical way to keep a bottle of wine as good as new.

Faith Durand, Editor-in-Chief of Kitchn
Repour is nothing short of revolutionary and has become essential to doing business today.

Gregory Stokes, Veritas Restaurant, Advanced Sommelier
We genuinely love Repour and recommend it to all levels of wine lovers.

The Wine Guys
Results? Repour worked as advertised which is to say perfectly.

Christopher Null, wired.com
Thanks to Repour, we've really changed how we serve wine, and our wine sales are up 500%!

Barbara Burgess. Sommelier
A brilliant product.

Kevin Vogt, Master Sommelier
We finally found a wine preserver that works.

Zak Miller, Winemaker, Domaine Carneros
Repour will revolutionize a wine by-the-glass program.

Will Costello, Master Sommelier
The fact that Repour brings waste down to nearly nil is a really big deal.

Michael Meagher, Master Sommelier
Repour is an incredible little slice of simplicity when it comes to preserving wine.

Jason Caballero, Advanced Sommelier
With Repour, the savings are huge and obvious.

Mark Guillaudeu, Sommelier
Repour is a straight-up game changer.

Amanda McCrossin, Wine Director
Repour has revolutionized how I use and handle wine samples in the market.

Wes Hagen, Winemaker
If you've grown tired of pouring your favorite wines – and money – down the drain, try a box of Repour; you'll be glad you did.

Rich Cook, winereviewonline.com
Amazed to see that the wine was perfectly sound after 13 days of being stored with Repour.

Andrew Harris, Rocca Restaurant
In terms of wine preservation tools, Repour is better than anything on the market.

Megan Hoffman, WinePair
Best Sellers that Fit Your Needs
Perfect for infrequent wine drinkers.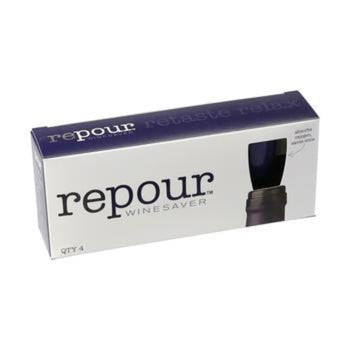 $9.99
Ideal if you drink wine more frequently.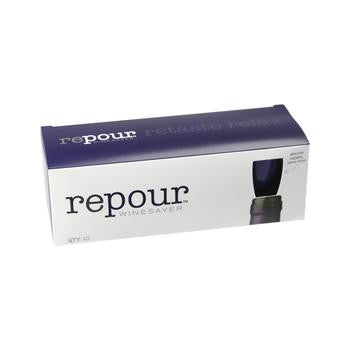 $17.99
For large home wine collections.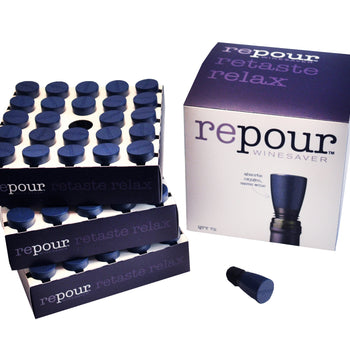 $119.99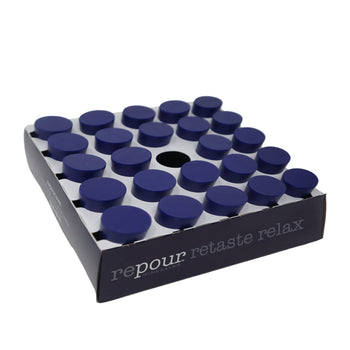 $41.99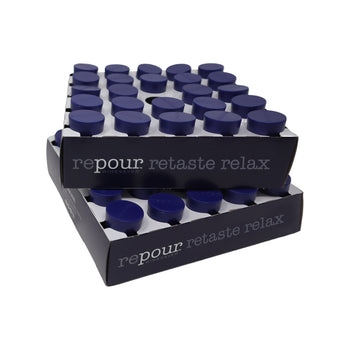 $81.99